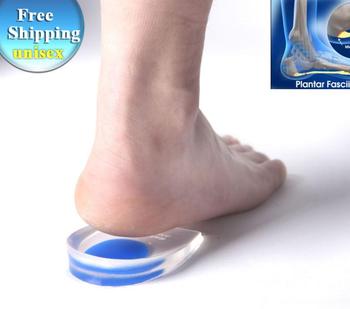 Overview
The heel bone is the largest bone in the foot and absorbs the most amount of shock and pressure. A heel spur develops as an abnormal growth of the heel bone. Calcium deposits form when the plantar fascia pulls away from the heel area, causing a bony protrusion, or heel spur to develop. The plantar fascia is a broad band of fibrous tissue located along the bottom surface of the foot that runs from the heel to the forefoot. Heel spurs can cause extreme pain in the rearfoot, especially while standing or walking.
Causes
Heel spurs are common in patients who have a history of foot pain caused by plantar fasciitis. In the setting of plantar fasciitis, heel spurs are most often seen in middle-aged men and women, but can be found in all age groups. The heel spur itself is not thought to be the primary cause of pain, rather inflammation and irritation of the plantar fascia is thought to be the primary problem. A heel spur diagnosis is made when an X-ray shows a hook of bone protruding from the bottom of the foot at the point where the plantar fascia is attached to the heel bone.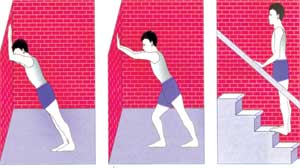 Symptoms
If your body has created calcium build-ups in an effort to support your plantar fascia ligament, each time you step down with your foot, the heel spur is being driven into the soft, fatty tissue which lines the bottom of your heel. Heel spur sufferers experience stabbing sensations because the hard protrusion is literally being jabbed into the heel pad. If left untreated, Plantar Fasciitis and heel spurs can erode the fatty pad of the heel and cause permanent damage to the foot. Fortunately, most cases can be resolved without medications or surgeries.
Diagnosis
A thorough history and physical exam is always necessary for the proper diagnosis of heel spurs and other foot conditions. X rays of the heel area are helpful, as excess bone production will be visible.
Non Surgical Treatment
The most important part of treatment is to rest. Do not undertake activities which hurt the foot or aggravate symptoms as will only cause painful symptoms to persist. Apply an ice pack regularly for 10 minutes at a time every hour initially to reduce pain and inflammation of the surrounding tissues. As symptoms subside frequency of application can reduce to 2 or 3 times per day. Exercises and stretches to keep the foot and ankle strong and mobile are important as long as pain allows. Stretching the plantar fascia is important, especially if symptoms are worse in the morning. A plantar fasciitis night splint is excellent for stretching and preventing the plantar fascia tightening up over night. Anti-Inflammatory medicine (e.g. ibuprofen) may be prescribed by a doctor but always check with a medical professional first as taking some medications such as ibuprofen should not be done if the patient has asthma. Shoe inserts can help to take the pressure off of the spur and reduce pain. If these treatments do not significantly ease the symptoms then surgery may be an option.
Surgical Treatment
Surgery to correct for heel spur syndrome is a common procedure which releases plantar fascia partially from its attachment to the calcaneous (heel bone). This part of the surgery is called a plantar fasciotomy due to the fact the fascia is cut. This is most often done through an open procedure as any heel spur or bursa can be removed at the same time. If the spur is not removed during the surgery, it will probably be just as successful, as the large spur is not the true problem. Some physicians use an endoscopic approach (EPF) where a small camera aids the physician during surgery with typically smaller incisions on each side of your foot.
Prevention
Use orthotic inserts. You can purchase orthotics over the counter, or you can have orthotics specially fitted by your podiatrist. Try 1 of these options. Heel cups. These inserts will help to align the bones in your foot and to cushion your heel. Check your skin for blisters when you first start using heel cups. Also, your feet may sweat more with a heel cup, so change your socks and shoes often. Insoles. While you can pick up generic insoles at a drugstore, you may have more luck if you go to a store that sells athletic shoes. Push on the arch to make sure that it doesn't collapse. If your insoles help but could use a little work, you can take them to a podiatrist to get them customized. Custom orthotics. A podiatrist can make a cast of your foot and provide you with custom-made orthotics. These may be more expensive, but they are made of materials specifically designed for your needs, and they can last up to 5 years if your podiatrist refurbishes them every 1 or 2 years. To find a podiatrist near you, look at the Web page for the American Academy of Podiatric Sports Medicine. Dynamic Insoles. Lack of elasticity in plantar fascia in the foot is for most people the real problem. If there is poor elasticity in the lengthwise tendons in the foot (plantar fascia) in relation to a person's general condition, only a small additional strain is required for the pull on the tendons to cause damage to the tissues connecting the tendons to the heel bone. This will generate an inflamed condition called Plantar Fasciitis.